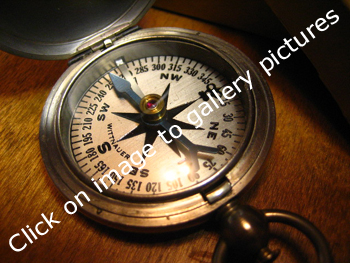 WWII US Air Force Pocket Compass Made By Longines-Wittnauer Watch Co. Inc.
This is a beautiful WWII Longines-Wittnauer antique compass made by the LONGNES-WITTNAUER WATCH CO., INC. in full working order. The case is nickel, 4.5cm diameter open-face and in excellent condition. It is stamped "U.S." on front lid. When the button is pushed the lid opens to a right angle. The face is stamped with "Wittnauer". The dial is in excellent condition without hairlines or chips. The glass is in excellent condition without any scratches. The compass comes with its original box in good condition. The box is marked COMPASS ASSEMBLY, POCKET TYPE, AIR FORCES, Order No. W535 - AC - 27707, LONGINES-WITTNAUER WATCH CO., INC.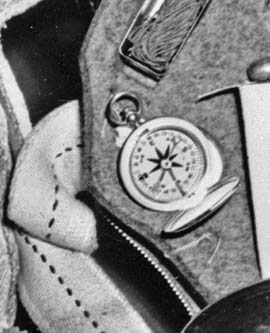 Watch-Type compass was among the contents of the U.S. Army Air Force pilot's emergency kit which fits into the back pad of a parachute. In addition to the compass, it contains, among other things, concentrated food, emergency ration, a frying pan, knife, lighter, pistol and ammunition, gloves, and insecticide in a compact form.
Photo at the right is a detail from a photo taken in the European Theatre of Operations during World War II.