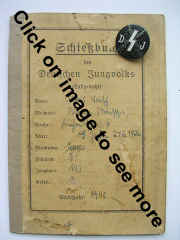 Original W.W.II period german DJ (Deutsches Jungvolk) marksman's badge with shooting booklet dated 1940.
In 1936, "Reichsjugendführer" Baldur von Schirach established a Hitler Youth Firearms School in Obermatzfeld, Thuringia, to stimulate expertise in firearm handling and to further the para-military training of the HJ. Shortly after the establishment of this School, von Schirach instituted a Marksman's badge for HJ members who had proven their proficiency with firearms, which was followed in 1938 by the establishment of a Sharpshooter's badge for the HJ and a new Marksman's badge for the DJ, with each badge having different award criteria. The Hitler Youth Marksman's badge, the first and lowest class badge, was awarded to qualifying members over the age of 14 for proficiency in target shooting with small caliber rifles. To qualify, the accurate results of five shots fired from a unsupported prone position, five shots from a supported prone position, and five shots from an unsupported kneeling position were required. The DJ badge was awarded to members between the age of 10 and 14 with the use of air rifles instead of a regular .22 caliber rifle.
The badge is approximately 22mm in diameter, convex alloy badge, whose obverse features four concentric silver-washed rings against a black enamel background, to the center of which is affixed the single DJ sigrune, with crossed, silver-washed rifles behind it. The 9mm tall sigrune is in white enamel with a silver border. A horizontal pin-back device is crimped to a circular plate soldered to its reverse. The backside has the markings: "RZM,M1/128". RZM stands for ReichsZeugMeisterei. The M1 stands for the product, thus a badge/insignia. The 128 stands for the number of the manufacturer in this case Eugen Schmidhaussler, Pforzheim. A full list of German production codes can be found here
The HJ Fähnlein/ Jungbann is 9/143 which stands for Altena/Westfalen/West Germany (former Kreis Altena). The holder of the booklet is born on 27th June 1926.
This booklet is compleet and in very good shape. The name of its original owner and the address he lived is written on the first page. I could not decypher it, but a member of the Axis History Forum suggested that it is Sütterlinschrift and that it said:
Name: Alexis Busch
Wohnort: Altena (Westf)
Strasse: Freiheitstr 6
Alter: 14 Jahre 27/6/1926
Dienstrang: Junge
Fähnlein: 9
Jungbann: 143
Gebiet: 9
The Freiheitstrasse 6 in Altena is an old building from roughly 1650. From 1847 onwards it is a pub and still is. Recently I acquired some information from a distand relative of the person in question, that it is indeed Alex Büsch. His full name was Wilhelm Alousius Büsch. Sadly he died in WWII.
Complete tekst on the front: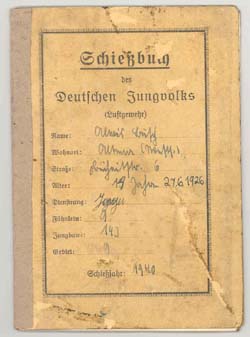 Click on image to enlarge.
His name, City and Street with number: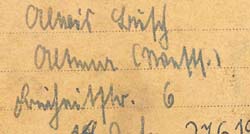 The Sütterlinschrift of the above:

= Alexis Büsch

= Altena Westf

= Freiheitstr