Nice American M1 WW 2 version with Firestone liner and original wide-mesh net cut from an larger vehicle camouflage net.
Firestone Liner new model stamped F in a crest (Firestone) and A 21, is a large model. M1 helmet is a front seamed swivel bale which is correct for the period. It is stamped under the visor with 369A which dates the helmet to november 1942 or 869A which dates it back to april 1944. The latter code is most probably right because the helmet has hinged loops for the chinstrap which was introduced in november 1943. An exact identical example with large camouflage net can be found in the "GI collectorsguide" (author: Henri Paul James).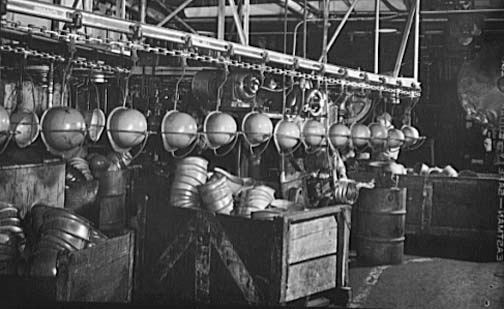 Production of M1 Steel Helmets at McCord Radiator Co, Detroit, MI, April 1942.
In October 1943, the QMC decided to modify the chinstraps loops on the M-1 helmet to a hinged "swivel" bale variety. Production of this type of shell began in 1943. Due to this fact, it most certainly was issued to many of the ground and support troops en route to the UK prior to the Normandy Campaign.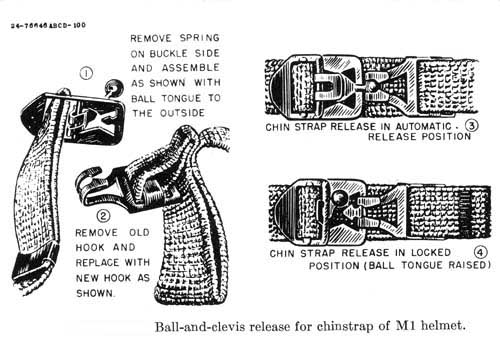 As far as airborne troops, there has been much debate concerning when the swivel bale paratrooper helmet became widely used. Because official QMC catalogue designation does not officially list "Airborne M-1C" until January 1945 some feel that this type of helmet was not used in the Normandy Campaign and photographic evidence seems to back this statement.
Physical evidence, in the form of original pieces, shows that airborne modified helmets with both fixed and swivel chinstrap loops were certainly in circulation towards the end of 1944. Probably it was the TERM "M-1C" that was not in use and not the helmet style.
Contrary to the information produced by some book authors, a production date can be determined when examining a WWII helmet shell. This can be done by examining the number found in the inner front of any US M-1 McCord manufactured helmet shell. McCord manufactured the majority of M-1 helmet shells (making 20,000,000 helmets) and they did not place any other identification marks.
Roughly the steel McCord M1 helmet can be dated by batchnumber