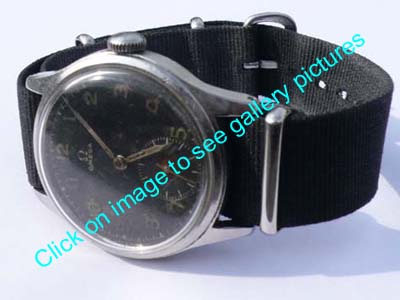 Omega produced many WWW (waterproof wrist watch) watches for use by the British armed forces during WWII, Omega also produced the "Suverän" exclusively for the Swedish market during the war years based on the same 30T2 movement and case.
The movement is Omega's classic 30mm Cal. 30T2PC (=30T2 with shock protection), with 15 jewels. Inside "Mumetal" soft iron shell, this is a special protection against magnetic fields up to 900 oersted instead of 60 oersted for a standard antimagnetic watch.
The text "Omega Suverän" is stamped on the outside of the screwed case back. The inside of the caseback has the case markings 2400-7. The movement number starting with 105xxxxxx suggests that it's from 1945. The aged luminous Baton hands with fine points are often seen in combination with 30t2PC movements of that era so I'm quite sure they are original. The same goes for the dial which has a substantial patina.
The Suverän was available with the black military style dial, but also in other types of mono-color and bi-color dials.
The 30mm calibre was one of Omega's most famed calibres, introduced in the 1930s and used in all the Omega WWII military watches supplied to the allied armed forces.
movement numbers and production year list