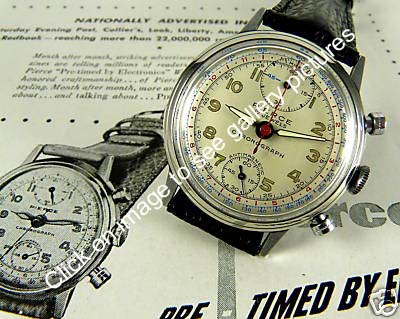 Pierce Cal. 134 Chronograph late 1940's
This is the latest version of this watch with the altered hands. This model was the official pilots watch of the Trans Caribbean Airlines during the late 40's and early 50's as you can see on the original Pierce advertisement from an American magazine from 1946. Here it is praised for its accuracy and the fact that it was "pre-timed by electronics" which seems to be a "big deal" in those days. It is remarkable that these Pierce watches were mainly sold in The States and far less in Europe, altough the British government was until the end of the second world war the largest military contractor for the company. For this reason, as of 1941, the bright dials of the Pierce chronographs found their way into the army's medical division and supported the nurses of the royal household.
The watch is signed three times (dial, movement and backplate). It is thoroughly overhauled by its previous owner and has not been worn ever since and it is in a pristine state. The Pierce Watch Co. was founded in 1883 by Leon Levy and his brothers in Biel (Switzerland). The official name was 'Manufacturers des Montres & Chronographes Pierce S.A'. Pierce began to design their own movements after the crisis of the Swiss watch industy during the 1920's, to be independent from the standard movement suppliers. Their approach was always very independent and they were all successful. This was especially so with their only chronograph movement which was different in every way from standard constructions of other calibres. A striking feature is the fact that only one wheel is visible on the movement (60 minutes wheel). All other functions are driven with a refined and complicated mechanism, which can be adjusted. Pierce singularly developed its 13 lignes column wheel movement with a vertical friction clutch, which they produced in series. These discs go bad after time, due to the material of which they are made from originally. During its last service, these discs were replaced by a handmade version of durable material. Therefore, beware of Pierce chronographs which are for sale on the internet…..
A nice site about the (modern) Pierce Watch Co. can be found here...
The caseback of the watch reads:
Pierce Watch Co. Inc.
Swiss
Stainles Steel Back
Brevette S.G.D.G. Patented (S.G.D.G. = "Sans Garantie Du Gouvernement")
Fond Acier Inoxydable Fabr. Suisse
Serialnumber: 81988
Movement:
Pierce 134, 17 jewels
As mentioned earlier, the watch is completely overhauled by a master watchmaker and keeps excellent time, it's in all parts original.