British Paratrooper Pegasus Shoulder Patch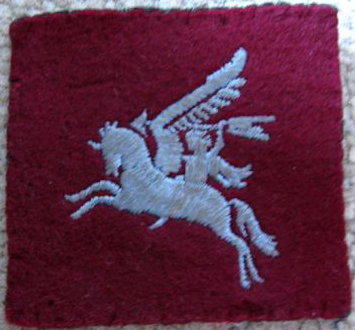 This is most propably an original wollen Pegasus shoulder patch of the British Airborne troops of WWII.
At first it was thought that it was British but I'm informed that they are most probably British made during WWII for the Belgian members of the Para Regiment whom had fled Belgium to Britain during the German advance and occupation of their country. They joined the British forces in the SAS (Special Air Services) or in the 21st independent Parachute Regiment of the British 1st Airborne Division or the 22nd Independent Parachute Regiment of the British 6th Airborne Division and fought along side there British collegues joining many regiments etc. who fought in North Africa, Sicily, D-Day France and at Arnhem. Like all other British airborne troops, both the 1st and 6th Airborne Division and the SAS wore the Pegasus shoulder patch. A nice site about these insignia worn by Belgian SAS men during the war can be found here
During WWII the Belgian SAS was occupied with intelligence, reconaissance, security and sabotage. They used armoured jeeps during the "Battle of the Bulge" and were involved in gathering intellengence and reconnaissance missions in support of the British 6th Airborne Division. More information about the Belgian SAS during WWII can be found here
During a visit at the Baugnez 44 Historical center near Bastogne (Belgium), I spotted the BD of a Canadian Paratrooper under British command, Mr. Jan de Vries who had an almost similar badge on his BD (see picture below). In January 1945, Canadian Paratroopers, integrated into the 3rd Parachute Brigade of the 6th British Airborne Division and took part in the Battle of the Ardennes.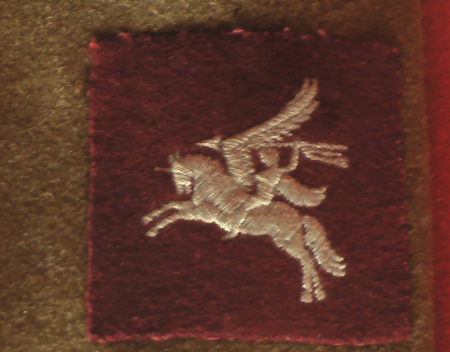 The badge I own is in excellent condition with a few minor moth nips to the edges, it shows original thread around the sides where they have been removed from a BD or Dennison long ago and show minor dirt to the front from use.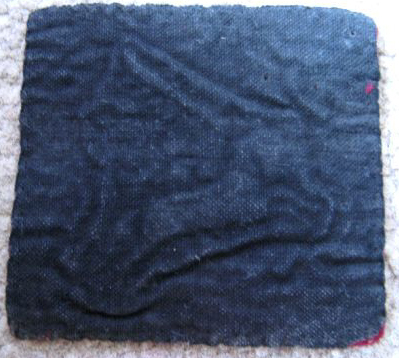 Backside



DJ Marksman's badge