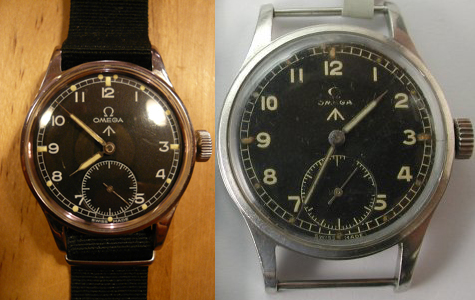 Click on either watch to see more pictures of both watches



Of the many WWW (waterproof wrist watch) watches made for use by the British armed forces during WWII, the Omega's are one of the nicest of the whole bunch.
The movement is Omega's classic 30mm Caliber, with on the right a 30T2 and on the left a 30T2PC (=30T2 with shock protection). Inside "Mumetal" soft iron shell, this is a special protection against magnetic fields up to 900 oersted instead of 60 oersted for a standard antimagnetic watch.
The case has the broad arrow logo & WWW are stamped on both the inside & outside surfaces of the screwed case back; the outside is also marked with the broad arrow & the hand stamped number with the serial number. The outside case back engravings don't refer to the watch itself but have to be strictly considered as military.
The watch on the left (30T2PC):
The movement number starting with 107xxxxxx suggests that it's from 1946, which could be correct because as far as I know, no Incabloc movements were issued during WWII. However the case seems to be the from 1942, so it seems that sometime during its life the case and movement have been joined together. This is not unusual as replacement movements were placed in cases when they were broken beyond repair during battle. These WWW watches have been (re)issued bij de R.A.F. long after WWII, I believe until the 60's. The aged luminous Baton hands with fine points are often seen in combination with 30t2PC movements of that era so I'm quite sure they are original.
This watch style has never been commercialized and was strictly reserved for the pilots of the British R.A.F.
The dial is reproduction. There are some special places to look for and you will notice that it is a reproduction
The letter "A" of the Omega brandname is in a point, the original is flat at the top
The "7" has a hook, the original has not
The original has all lines of the broad arrow sign rest at the same virtual horizontal line at the base, this one has not
In the seconds dial the distance between 53 en 54 seconds is different, the original has no discrepancies
The watch on the right:
This is the real deal, an unrestored original dial with a 30T2 movement with serialnumber 102xxxxx wich dates back to 1944.
The 30mm calibre was one of Omega's most famed calibres, introduced in the 1930s and used in all the WWII military watches supplied to the British armed forces. These RAF watches were bought back by Omega from the RAF and were sold as army surplus watches after the war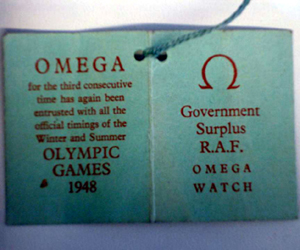 These watches played such a significant role that Field Marshal Montgomery visited Omega's Geneva offices after the war to thank the company.
movement numbers and production year list