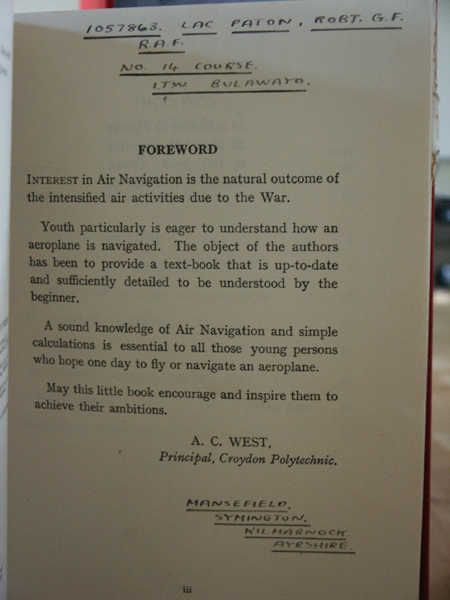 An original booklet with the title "Navigation for air-crews, part I printed October 1942. It was used for RAF and USAAF personnel to give them an introduction in "first stage mathematics" and "map work for cadets and others" with the ATC (Air Training Corps).
On the first page some names, places and (service)numbers are mentioned in handwriting:

1057863. Lac Paton, Robt.G.F.
R.A.F. No.14 course
I.T.W. Bulawayo (city in Rhodesia, now Zimbabwe)
Mansefield, Symington, Kilmarnock, Ayrshire
The last four names could be the home of the pilot. There is a Symington Road in the town Kilmarnock in Ayrshire county, which lies in south-west Scotland. Maybe I'll do some detective work to look for a Mansefield family or Mansefield house in this region.....