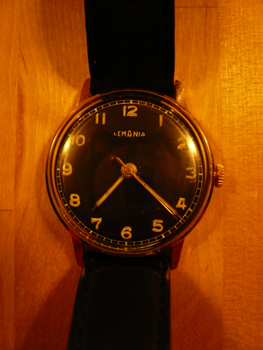 At this moment I do not know the Caliber nor the date of manufacturing of this particular Lemania dresswatch. Some say it's a Lemania Caliber S27 and looking at the dial and the military style of the watch, the manufacturing date is around 1945 - 1950. I hope to know more about it soon. Case is 20 microns 14k gold and the dial is black. Lemania, Lugrin S.A., was started in 1930 by Marius Meylan. Marius and his father-in-law, Alfred Lugrin, had been making watch movements for some time before this. In 1932, Lemania was purchased by the Société Suisse pour l'industrie horlogère (SSIH), who owned Omega and other famous Swiss watch brands. Under SSIH Lemania started concentrating on chronograph watches. About 1939, Lemania supplied the Czechoslovak Air Force with a model of wristwatch similar to the Longines military watches. After the start of the war, the supply of these watches were rerouted to the UK and supplied to the Czech squadrons of the RAF. Many air forces adopted the Lemania chronographs for navigators and pilots due to their reliability and accuracy.
In 1969, a Lemania chronograph was taken by Neil Armstrong and Buzz Aldrin to the moon, the 'Omega Speedmaster' used by them had a Lemania movement in it.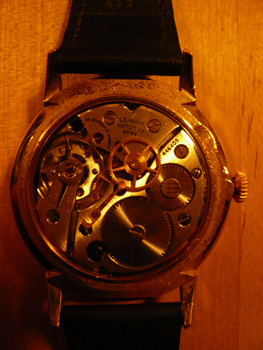 In 1992, the company was again sold, this time to Investcorp, Groupe Horloger Breguet. One of the possible reasons for this purchase is that Lemania were providing all the mechanical movements for Breguet watches. They also supplied high quality mechanical movements for other makers.