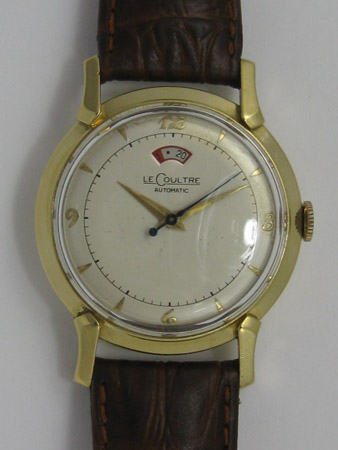 At the beginning of the 20th century, two extraordinary men come together to take up a universal challenge: the meeting of the Swiss Jacques-David LeCoultre and the Parisian Edmond Jaeger led to the advent of super-flat pocket-watches, as well as the entrance onto the horological stage of the first wristwatches. At the time of their first collaboration they had no idea that they were giving birth to the Jaeger-LeCoultre marque.
After the war, the world underwent a revolution in its thinking. Efficiency, organisation and pragmatism were now the guiding forces. In keeping with the times, Jaeger-LeCoultre channelled its resources into automatic round watches. Useful functions, impact resistance and ergonomics together formed the credo of the period.

The Jaeger-LeCoultre Cal476 (1946), was the first automatic watch of JLC. The ultra-precise pilot watches, including the Pilot Watch Mk11, RAAF, made in 1949 for the Australian air force is also a great watch. The Futurematic (1953) serves as a reminder that Jaeger-LeCoultre was responsible for creating the first entirely automatic watch. Meanwhile the Calendar Watch is a perfect embodiment of the concept of useful functions: the model created in 1949 indicates in full date, day, month and phases of the moon.
This JLC Cal481 bumper automatic watch with 17jewels with a case of 14K yellow gold is the first with a power reserve indicator. Inside of the case reads "Cased and Timed in USA by Le Coultre, 24518". The watch is in excellent condition and is keeping good time.