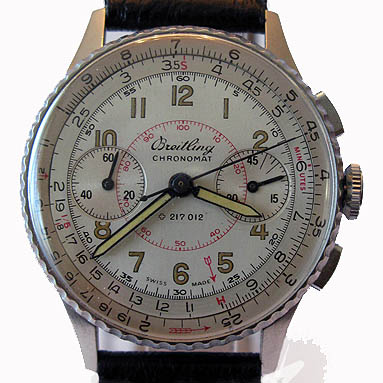 Breitling was founded by Louis Breitling in 1884 in St Imier with the specific purpose to develop chronographs and counters for scientific and industrial applications. The late 19th century witnessed a number of unique industrial developments such as the automobile and the aeroplane. Breitling recognised that these new machines would need timing instruments and soon became a manufacturer of high quality timing instruments. Rapid expansion led to a move to the Swiss town of La-Chaux-de-Fonds in 1892 to accommodate growth.
In 1936 Breitling was chosen among others like Omega and Vertex to supply the Royal Air Force with time keeping equipment. In the late 40's Breitling became the US Air Force official pilots watch whilst also supplying the American armed forces. By the 50's Breitling had cemented their position in the aviation industry and was supplying cockpit clocks for most of the international airlines.
Over the years, Breitling launched a number of classic watches. 1942 saw the launch of the Chronomat, the first chronograph to be fitted with a circular slide rule. In 1952, the Navitimer was launched, a wrist watch equipped with a so called "navigation computer" that allowed pilots to calculate flight plans. This watch became an instant favourite amongst pilots. Mine is a Breitling Chronomat ref. 769 with a 17 jewel manual wind Venus 175 movement and is in excellent working order. The movement is unsigned which is not uncommon for Breitling movements of this era. The caseback is signed "Breitling" with serialnumber "609198" and reference number "769". The serialnumber dates it to the summer of 1945. The chrono functions are operated via the 2 flat head pushers above and below the crown which start, stop and reset crisply.
The Chronomat is one of Breitling's most famous watches and promoted as a watch for scientitists, engineers, mathematicians; for timing and financial calculations. It was specifically not designed for military men or pilots. This watch offers the features of a tachometer, speedometer for cyclists, telemeter, pulsimeter, metronome, production counter, meteorology, counting hours, multiplication, division, rule of three, and calculating; percentages, prices, fuel consumption, interest, rates of exchange, and geometric calculations. I think it tells you the time too....
By the end of the war the watch was advertised with a particular emphasis that would appeal to hard-working men of achievement in the new age that beckoned after the dark days of the earlier 1940s.
A very nice history about the Chronomat 769 can be found here