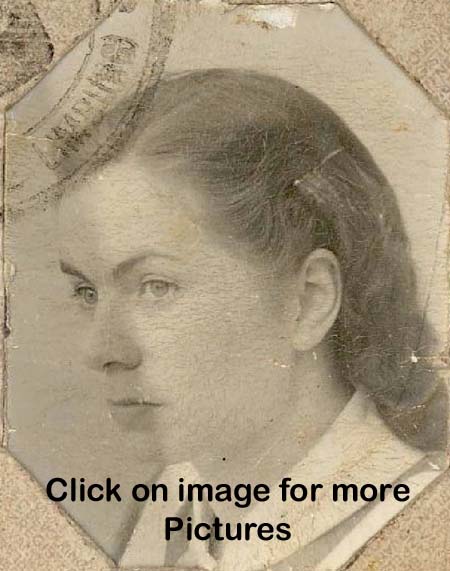 Nurse Bouwman (*30-04-1924 - †20-01-2010) was one of the women who rose to the occasion during Operation Market Garden in september 1944. As a 20 year old Red Cross nurse in the region of Arnhem (Over-Veluwe) she was stationed in the emergency hospital at Ermelo. As such she was entitled to wear the Red Cross sign around the arm and was therefore under the protection of the Red Cross.
You can read about the events in september 1944 in an original copy of "De Vliegende Hollander" (The flying Dutchman)
After the war she was one of the figurants in the movie "Theirs is the Glory". This movie was filmed just 9 months after the atrocities of september 1944 in Oosterbeek and the immediate region. It tells the story of a part of operation Market Garden, in particular the part which took place in Oosterbeek and Arnhem. Nurse Bouwman can be seen in this fragment of the movie.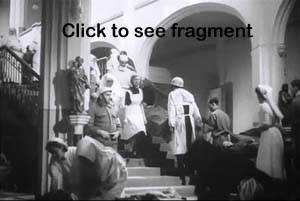 She wrote a "thank you" letter to Mr. G.Knight, producer of the movie "Theirs is the glory" after receiving some photographs from him (these photographs can be seen by clicking on the image on top side of this page).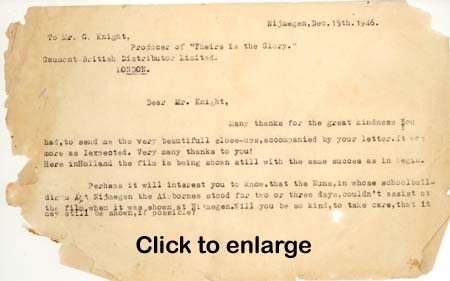 The movie was filmed with the actual soldiers who played their role as themselves on the actual battleground, sometimes even in the foxhole they dug themselves just 9 months earlier. Recently a documentary was made about the making of the movie. You can watch this documetary here below:
Nurse Bouwman is also mentioned in the book "Zes dorpen in oorlog en verzet" written by H.C.J. Erkens, G.A. Versteegh and G.J.H. Oosterhaar on page 95
.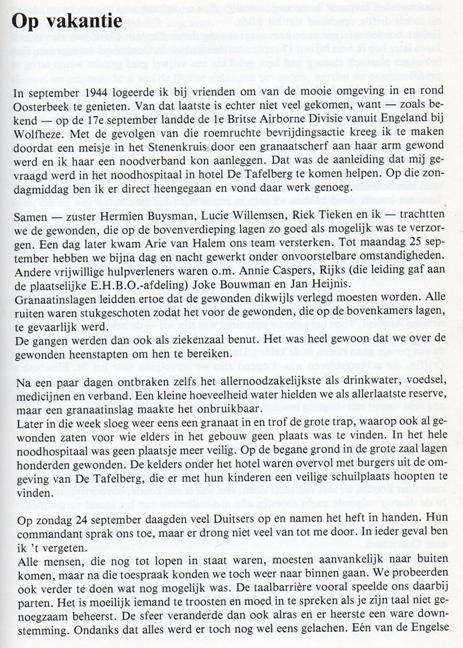 In short it states that Nurse "Joke Bouwman" was present at hotel "De Tafelberg" which stood at the frontline in Oosterbeek and was hastely transformed into an emergency hospitel from the beginning of the battle on the 17th.
Nurse Bouwman was one of the few selected to be awarded a commemorate medal in 1994. This medal was awarded for those who expressed exeptional creditable work during the battle in 1944. This award and accompied letter can be seen below.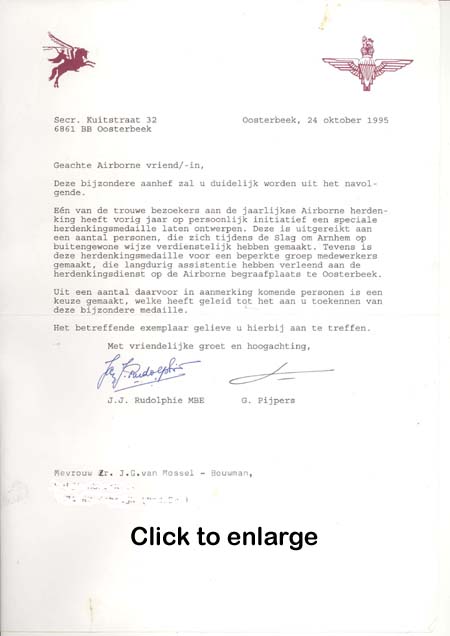 Below you can see her ID card. Notice the number of the ID card which is V18 010862. This number is also present on her Red Cross ID card